derma e Hyaluronic Acid Firming Serum ingredients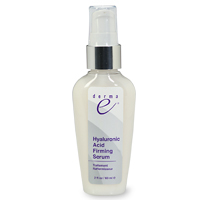 This derma e product's primary active ingredient, as you might have guessed from its name, is hyaluronic acid - nature's most powerful moisturizer. Hyaluronic acid is found in virtually all tissues in the body and plays a critical role in the health of collagen and elastins, the foundations of the skin. But does this derma e product really "improve collagen health"? Yes, it does -- but no more so than any other good moisturizing formula. The name Actimoist Bio-2 definitely wins first place in the category of creative names for everyday ingredients (important note: Actimoist Bio-2 is non-animal-derived hyaluronic acid).
On the down side, derma e Hyaluronic Acid Firming Serum contains none of the other anti wrinkle skin care ingredients found in other anti aging skin care products. Therefore, this product cannot be seriously considered to be in the same class as the top anti wrinkle creams reviewed elsewhere on this site -- though it may serve as an effective moisturizer.
The complete ingredients of this derma e product are:
Purified Water, Dimethicone, Glycerin, Cyclomethicone, Cyclopentasiloxane, Hyaluronic Acid (Actimoist Bio-2), Ester-C, Allantoin, Panthenol, L-Alanine, L-Leucine, L-Tyrosine, Glycine, Valine, Ammonium Acryloyldimethyltaurate/VP, Ceteareth 20, Xanthan Gum, Titanium Dioxide, Methylparaben, Ethylparaben, Urea, Plumeria Oil.
How to use derma e Hyaluronic Acid Firming Serum
Cleanse and dry the desired area of treatment. We recommend applying derma e Hyaluronic Acid Firming Serum after applying your chosen anti wrinkle cream, but before your sunscreen. Spread a small amount of the serum on the fingertips and work gently into the skin.
derma e Hyaluronic Acid Firming Serum: our evaluation
The derma e line contains many interesting products, many of which are more suited for anti aging skin care than the Hyaluronic Acid Firming Serum. This serum should not be considered an anti wrinkle product and should not serve as a replacement for our top anti wrinkle products.
On the other hand, derma e Hyaluronic Acid Firming Serum is a good moisturizer that's light, not at all oily, and rapidly absorbed by the skin.
How does derma e compare?
We are still investigating derma e products. Please check back soon for an update.
Derma e is a registered trademark of derma e Natural Bodycare.
All information is accurate to the best of our knowledge at the time of publication.