Kinerase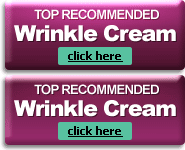 .
Rated:
2

out of

5


by

WrinkleReview.com
Kinerase is a fairly new anti aging skin care product featuring an unusual active ingredient called N6-furfuryladenine. The manufacturers of Kinerase have invested a great deal of money in advertising and celebrity sponsorship. But how does Kinerase compare? Read on to find out.
A 1.4 ounce tube of Kinerase cream costs about $65.00.
Kinerase Ingredients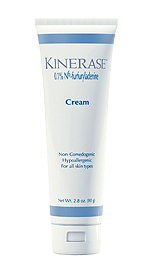 Kinerase's main active ingredient is N6-furfuryladenine. As far as we have been able to determine, there's no research currently available on this particular compound (update: there has indeed been some research on N6-furfuryladenine, also known as kinetin - learn more). The manufacturers of Kinerase tell us that N6-furfuryladenine is a naturally occurring compound found in plant leaves that keep the leaves from drying out and from aging.
N6-furfuryladenine is said to be an effective moisturizer. Compare to hyaluronic acid, which is an incredibly powerful moisturizer and has a proven track record as an anti wrinkle ingredient. Recent research tentatively indicates that N6-furfuryladenine (kinetin) is a powerful natural antioxidant like CoQ10. Will the makers of other anti wrinkle creams follow Kinerase's lead and begin to use kinetin in their own formulations? Perhaps so, after there is more of an established body of research.
Kinerase also contains botanical compounds to help soothe the skin.
How to use Kinerase
Clean and dry the skin. Apply a dime-sized drop of Kinerase cream to the fingertips. Rub the cream thoroughly into the skin. Apply morning and night for best results. Kinerase may be used on the skin of the face, neck, hands or chest.
Kinerase Wrinkle Cream Review
Kinerase is an interesting product. Most anti wrinkle products include compounds that have been researched, at least tentatively, and therefore their effectiveness is more predictable.
Considering the lack of information available on N6-furfuryladenine, we recommend products that contain proven anti wrinkle and anti aging ingredients over Kinerase.
Update: some research has been performed on the chemistry and functions of N6-furfuryladenine, also known as kinetin.
How does Kinerase Compare?
Kinerase® is a registered trademark Valeant Pharmaceuticals International.
All information is accurate to the best of our knowledge at the time of publication.
© 2023 WrinkleReview.Com

Sponsored Ads