Crystal Peel Facial Cleanser Review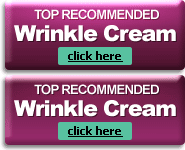 .
Rated:
5

out of

5


by

WrinkleReview.com
Everyone wants a fresh, beautiful, exfoliated face. Sure, you could spend lots of time and money going to the salon every day or a spa to get an expensive exfoliating scrub, complete with scented oils and fancy European bath salts, but who can afford that other than the rich and famous?
As we age, fine lines and wrinkles form. This is common knowledge, but did you know that the dead skin that naturally accumulates on your face actually serves to accentuate those wrinkles? Studies have even shown that by not properly cleansing your skin and removing this layer of dead skin and other particulates, you could be accelerating the aging process.
This article will review Crystal Peel Facial Cleanser, a unique product that is powerful enough to provide a spa quality cleansing.
Crystal Peel Facial Cleanser Key Ingredients
Crystal Peel Facial Cleanser's secret is in several key ingredients: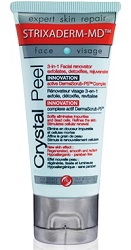 DermaScrub-PS – a unique blend created by Strixaderm MD that combines mechanical exfoliating materials that will gently and effectively remove dirt, grim, and dead skin. The blend includes florapearls, micro-spheres that will gently scrub away and shed skin without damaging the new skin underneath.
Salicylic Acid – a gentle derivative of aspirin, salicylic acid works by encouraging your skin to shed older and dying skin cells more easily. This creates more space for young and healthy skin cells to grow and flourish. The result is skin that looks younger, had fewer wrinkles, and is radiant.
Glycolic Acid – this is a popular ingredient found in many exfoliating products. Glycolic acid works to break the lipid bonds of old and damaged skin. This makes it easier for your body to discard the rough and dead skin. This provides the way for newer and younger skin to shine through.
Amber Powder – all natural, this is another mechanical exfoliator that removes dead skin cells.
Tea Tree Oil – another popular natural cleanser. It has unique antibacterial and antifungal properties that provide a balancing effect on your skin.
Soybean Oil – an antioxidant that serves as a collagen stimulator. By encouraging collagen, soybean oil improves elasticity which reduces wrinkles. Not only is it a powerful anti-aging ingredient, its antioxidant properties also serve to protect the skin from damage and water loss.
Crystal Peel Facial Cleanser Benefits
Strixaderm MD's Crystal Peel Facial Cleanser is hypoallergenic and dermatologist approved - two fundamental requirements for a quality product - and it works to:
Remove dirt and dead skin
Reduce the appearance of fine lines and wrinkles that are exaggerated by the accumulation of dead skin
Over time, reduce the impact of aging by keeping skin healthy and clean
Increase collagen development and improving elasticity to prevent the development of fine lines and wrinkles
Provides your face with the radiant glow of young, supple skin
Spa quality product without the spa quality price
Crystal Peel Facial Cleanser is safe to use on a daily basis so results can be seen almost immediately!
Buy Crystal Peel Facial Cleanser
You can order Crystal Peel Facial Cleanser here through the manufacturer's website as either a one-month supply or a multi-month package. As a testament to Crystal Peel Facial Cleanser's quality, the product comes with a money-back guarantee to ensure complete satisfaction. If you purchase this cleanser and are not completely satisfied, simply return it and the manufacturer will actually give you a full refund!
© 2023 WrinkleReview.Com

Sponsored Ads