Dermapril-SP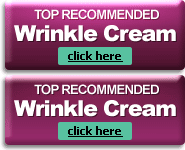 .
Rated:
4

out of

5


by

WrinkleReview.com
Dermapril-SP's chief ingredient is the patented peptide Matrixyl 3000, the trademark name for palmitoyl pentapeptide. When used in a multi-peptide formula, Matrixyl's wrinkle removing powers are enhanced. Dermapril-SP also contains green and white tea extracts. A 2005 study of topical green tea showed no difference in wrinkle reduction between the green tea treated and placebo groups.
Dermapril-SP lacks both new generation moisturizers such as hyaluronic acid and tried and true moisturizers such as shea butter and aloe vera.
The complete ingredient list is: Purified water, Cetearyl Alcohol, Glyceryl Stearate, Hydroxylated Lexithin, PEG-100 Stearate, Stearic Acid, Glycerin, Camellia oleifera (green tea) Leaf Extract, Camellia Sinensis (White Tea) Leaf Extract, Palmitoyl Pentapeptide-4, Butylene Glycol, Carbomer, Polysorbate 20, Imidazolidinyl Urea, Benzyl Alcohol and Dehydroacetic Acid.
How to use Dermapril-SP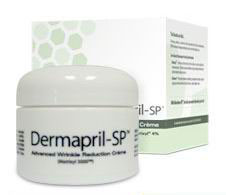 The Dermapril-SP instructions state, "With fingertips, using gentle upward strokes, smooth over cleansed skin until absorbed. Use twice per day, morning and evening."
One jar is considered to be a one month's supply only if it is used once per day, so if you follow the instructions, you only have enough Dermapril-SP for two weeks. It is possible that the manufacturers of this product do not want the consumer to still have product left over when the next month's shipment arrives (see below).
How much does Dermapril cost?
While the Dermapril-SP free 14 day wrinkle cream trial sounds exciting and risk-free, reading the small print informs the consumer that this is a recurring billing program – every 30 days you will receive non-refundable Dermapril-SP and your credit card will be billed$69.95 + $5.95 shipping and handling. The free trial will allow a few days to evaluate one's opinion of Dermapril-SP and determine if it's a quality product, but 14 days are not a realistic time frame to expect wrinkle reduction.
We were not able to find any information on Rauscher Bekke, so are not able to evaluate their customer service. No corporate contact information is available, even on press releases.
Does Dermapril work?
By their repeated use of the word "patented," the manufacturer of Dermapril leads you to believe that Matrixyl 3000 is exclusive tot heir formulation. Matrixyl is in fact just the trademarked name formulator pentapeptide, commonly licensed in the newer high end anti wrinkle skin care products. In fact, Matrixyl actually does work better in combination with other peptides, of which Dermapril has none. Additionally, the Dermapril-SP formula lacks botanicals and antioxidants commonly found in best anti wrinkle creams.
How does Dermapril-SP compare?
There is no trademark information available for Dermapril-SP or Rauscher Bekke.
All information is accurate to the best of our knowledge at the time of publication.
© 2023 WrinkleReview.Com

Sponsored Ads