Our Hydroderm Original Age-Defying Wrinkle Serum Investigation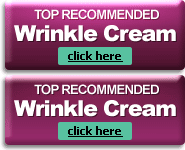 .
Hydroderm Original Age-Defying Wrinkle Serum is part of the Hydroderm cosmetic line which promises to help you develop younger-looking, smoother skin. You can get it directly from the manufacturer's website for $59.95 each month, and your purchase will automatically enter you into an auto-ship program which will keep charging you $59.95 every 30, 60, or 90 days (your choice). You can also order the product off of major retail sites like Amazon or eBay for around $23 per bottle.
Active Ingredients in Hydroderm Age-Defying Wrinkle Serum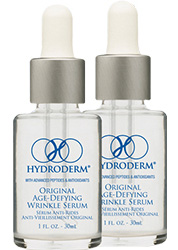 There are two main ingredients in the Hydroderm Wrinkle Serum formula: Whole Marine Collagen, and Lycopene. Despite some ambiguous language, the Whole Marine Collagen can reportedly "help tone skin and smooth the look of surface wrinkles". It would really help, though, if the company stated the exact marine source of this collagen, so that we could do some research and confirm (or deny) whether this claim is true or not.
Lycopene, an antioxidant, is also included in this serum. It is easily absorbed by the skin, and also helps firm your skin's texture if you eat plenty of it in your diet. It looks as though this antioxidant does have the ability to promote collagen production and repair wrinkle-causing DNA damage.
In the past, customers who read the fine print on the product label were disappointed to learn that it contained dangerous parabens and skin-drying alcohol. The manufacturer's website now claims that the product is paraben-free, but since they do not have a full product label or list of ingredients on display anywhere on their website, it is hard to confirm that this claim is true before making a purchase.
Hydroderm Directions for Use
First, the manufacturer suggests that you cleanse and gently dry the skin of your face before you begin their moisturizing regimen. Next, shake the bottle vigorously for a few seconds and place a small amount of the serum onto your fingertips. Then use your fingertips to gently massage a thin layer of the serum onto your skin, but be careful to avoid your eyelids or getting the product into your eyes. Let the serum dry for 2-3 minutes, then apply any additional moisturizers or makeup to your face.
The Final Word on Hydroderm Serum
On the plus side, it is promising that the serum contains Lycopene. If the formula includes large enough quantities of it, you might experience a wrinkle-reducing benefit from using it. It also seems to have a 3.5 out of 5 star rating on Amazon.
On the questionable side, there is no way to know how much lycopene is in the Hydroderm serum. It's also difficult to know if skin-damaging chemicals, like parabens, have been eliminated from the formula without a full list of ingredients. And it has plenty of negative reviews on not just amazon, but also consumer report websites. Most customer complaints revolved around the product not working, getting "tricked" by a free trial offer, and poor customer service from the company which sells Hydroderm products.
How Does Hydroderm Compare?
All information is accurate to the best of our knowledge at the time of publication.
© 2023 WrinkleReview.Com

Sponsored Ads