L'Oreal Collagen Filler Review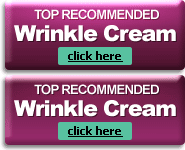 .
One of L'Oreal Paris' wrinkle-fighting products is the L'Oreal Collagen Filler, which is a supposed alternative to collagen injections. According to L'Oreal's official website, this product can quickly do away with facial wrinkles. But is this really true? Let's weigh the facts and see if this L'Oreal product is all it's cracked up to be.
Defining L'Oreal Collagen Filler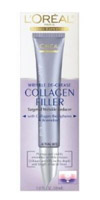 Many claims are made about L'Oreal's collagen filler. Purported abilities of this product include that it:
Fills in facial wrinkles
Softens crow's feet
Diminishes facial lines
Tightens skin
Hydrates or moisturizes skin
Makes skin smooth and plump, giving a youthful look
L'Oreal Collagen Filler Ingredients
Some of the named active ingredients in L'Oreal Collagen Filler are as follows:
Natural Collagen, which is, according to L'Oreal, collagen that is handled in a special process that will help it fill in wrinkles better than other collagen.
Collagen Biospheres, which act to spur collagen production when absorbed into the skin. Collagen is a needed protein of the skin that gives elasticity and strength to the epidermis. Collagen Biospheres add plumpness to the skin by helping to fill in lines and wrinkles.
Padina Pavonica Extract, from brown algae of the same name that thrives in the Mediterranean. This ingredient (also known as "Peacock's Tail") may help tone skin.
Boswelox, an ingredient comprised of manganese and boswellia serrata extract. This ingredient has been heavily criticized in the mass media as being little more than impressively-named snake oil.
L'Oreal Collagen Filler User Complaints
There was an abundant supply of reviews online for this product. Many of the reviewers were dissatisfied customers because their expectations were simply not met. The common thread seems to be that although fine lines faded and skin plumped up a bit after use, that effect was only short lived, and fine lines and wrinkles returned within a few hours. Reviewers also stated often that deep wrinkles were unaffected by the use of this wrinkle product. Many middle-age women as well as older women agreed that this product did not work as stated and that they would not purchase it again. As far as side effects go, there do not appear to be any major side effects associated with use of this product, except that this anti-aging cream is not suitable for those with sensitive skin.
The price of this line of products from L'Oreal is quite reasonable in comparison with many high-priced wrinkle creams and products on the market, but still a moderate amount of money for a small supply of what is often construed as an unsatisfactory product.
Overall L'Oreal Collagen Filler Review
Overall, this seems to be a product best used for temporary coverage of wrinkles and fine lines, but does not seem to be the type of product to depend on for the long-term.
This product line can be easily purchased in many retail stores, drug stores and online. Doing a brief search online will show that you can purchase this product at discounted prices, so it may be worth a try if you are searching for a temporary solution and can see past all the negative reviews that this product has generated. However, if you want a more permanent solution, it is probably best to look somewhere else.
Curious to find out which products turned out better in our research? Check out our comparison chart to find out!
How does L'Oreal Collagen Filler compare?
All information is accurate to the best of our knowledge at the time of publication.
© 2021 WrinkleReview.Com

Sponsored Ads