About Us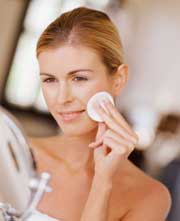 Hello! My name is Amanda Walker. I live in Fort Lauderdale, FL. I am a beauty enthusiast who has taken it upon myself to research and analyze skin care products. My efforts to study skin products and especially anti-wrinkle creams started the same way it probably does for everybody else: I got wrinkles! Not too bad, thank goodness, but I got slowly developed definite wrinkles in the corners of my mouth and on the outside of my eyes.
Now, a lot of women here in Florida just go to their doctors and get injections of botulinum toxin. That's not for me. I studied biology in college and I've always been interested in the technology and chemistry of skin care. I do my best to stay up-to-date on industry trends. My goal is to provide relevant information and research on the latest developments in the high-tech and fast-paced world of anti wrinkle skin care.
This site started as a pet project to research the latest ingredients and products for skin care. It's partly an homage to my hero, Paula Begoun, the creator of Paula's Choice skin care products. I think she's awesome.
Now, my website has grown to a mature informational resource with input from others who have used different products for skin care and anti aging purposes. There is so much information to absorb, and daily discoveries and rediscoveries, that staying informed and up to date in this field can be immensely time-consuming. I do solicit input from my friends and acquaintances to help me keep the site up to date.
Thank you for visiting the site. Please contact me if you have any questions.
Please note: my evaluations are my personal opinions and only that.
Disclosure of how this website makes money
I have a business relationship with the manufacturers of some of the products listed on this website. However, I don't let these relationships change my reviews of products. It's a lot more important for me to let you know what products really work well than it is to make a few bucks. There are some companies that pay $40 or $50 for every visitor I send to their website. I believe in karma and so I tell you what I think is best for you, rather than what is best for my bank account.
I have affiliate associations with the following companies: Google.com, Drugstore.com, CVS.com, Target.com, MarketHealth.com, Advanced Formulations Inc. and eBay.com. If you have any questions about anybody listed here please contact me and I'll do my best to answer.
Disclaimer about how to use this website
I'm not a doctor. Please don't use any information on this website as a replacement for medical advice. Some skin conditions require the intervention of a dermatologist. Sometimes a visit to the doctor really is the best answer.
All this information is my opinion only. I get a lot of lawsuit threats (especially when I say that a product doesn't work for me or my friends) so my friend who is a lawyer told me to make this statement:
"You agree to hold harmless and indemnify wrinklereview.com and me, my affiliates, contributors, and other agents, against any liability for any claims and expenses, including reasonable attorney's fees, special, indirect or consequential damages, arising out of or in connection with the use of the site or use of information available from this website. All information is provided on an "as is" basis, without warranties of any kind."
Okay, so now all that's done. Please enjoy this website and all my hard work. I sure do hope you find what you're looking for here!
Thanks,
Amanda Walker
© 2023 WrinkleReview.Com

Sponsored Ads