Revitol Anti Wrinkle System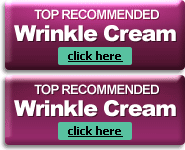 .
Rated:
3

out of

5


by

WrinkleReview.com
Revitol anti wrinkle system is a set of three separate products: an anti wrinkle lotion, a "hydration treatment serum" (moisturizer) and a moisturizing cream. The primary ingredient of the Revitol system is Argireline, buttressed by hyaluronic acid.
A month's supply consists of the following:
1 oz. Revitol Anti Wrinkle Complex Treatment (lotion)
1 oz. Revitol Skin Care Hydration Treatment System
1 oz. Revitol Moisturizing Skin Treatment Cream
This set of products retails for $99.95.
Revitol ingredients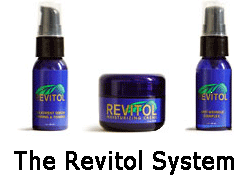 Each of the three products in the Revitol system uses a different set of ingredients. The primary active ingredients in the moisturizer and the moisturizing cream are Argireline (acetyl hexapeptide-3), Matrixyl (palmitoyl pentapeptide-3) and a small amount of hyaluronic acid. The lotion's active ingredients include the powerful antioxidant idebenone along with Vitamins A and C.
The cream also contains botanicals such as evening primrose oil and shea butter to help soothe the skin.
How to use Revitol
Cleanse and dry the desired area of treatment. Massage a small amount of the Revitol lotion onto the desired treatment areas. After the lotion has been fully absorbed, follow up with the Revitol serum. (You will note a tightening sensation as the serum dries.) In the evenings, complete the treatment by applying the Revitol cream to your entire face.
This regimen should be repeated twice per day.
Revitol: Our Evaluation
The sole purpose of Revitol serum may be its tightening sensation produced as the liquid dries on the skin. This tightening sensation is exactly the same as when you let any mask dry on the face -- it has nothing to do with reducing wrinkles. We are extremely wary of all anti wrinkle serums for this very reason.
Revitol's moisturizing cream seems to be a good product. But, at $39.95 for a 1.5 oz. jar, it seems overpriced for a moisturizer.
These exuberant and unusual nomenclature associated with the Revitol product line seems heavily influenced by marketers. Not only are common ingredients given bizarre names like "Skin Tightener ST" and "Pentacare NA," when was the last time you saw a product with a name as long as Skin Care Hydration Treatment System?
How does Revitol compare?
All information is accurate to the best of our knowledge at the time of publication.
© 2023 WrinkleReview.Com

Sponsored Ads