Botopical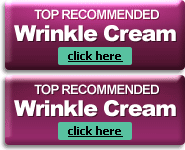 .
Rated:
3

out of

5


by

WrinkleReview.com
Botopical produces an entire line of skin care products, including a wrinkle reduction system. The Botopical anti wrinkle brand has been widely advertised on TV and infomercials in the United States. The marketing for Botopical has been long on hype and short on actual information about what ingredients the product contains, how they work and whether or not they've ever been clinically tested. We will try to answer these questions here.
A one-month supply of the three component products in the Botopical system costs $99.95.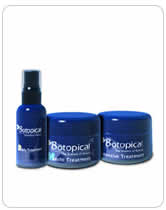 Botopical ingredients
Botopical contains two peptides in its formulas. The products actually do contain peptides, Palmitoyl Pentapeptide-3 and Acetyl Hexapeptide-3 (Argireline and Matrixyl) but the concentrations are relatively low. In addition, Botopical contains some botanicals that have a proven record of skin care success, including evening primrose oil, shea butter and edelweiss extract.
Although there are three separate products in the complete Botopical skin care system, the three contain nearly identical proportions of the same ingredients. The main difference between them seems to be in the delivery system (spray, cream or pad).
How to use Botopical
After cleaning the skin, apply a dime-sized drop of the Botopical Daily Treatment to the fingertips and massage into the skin until fully absorbed. Treat the areas around the eyes and the corners of the mouth with Botopical Liquid. Finally, apply Botopical Pads to the eyes. Leave in place for 20 minutes or until the pads fall off by themselves.
Botopical: our evaluation
We feel that the lack of concentration of peptides is a serious shortcoming in the Botopical formula. The herbal and botanical ingredients are good ones, though. They would be even more effective in a product with a strong concentration of peptides.
In addition, the fact that the system consists of three extremely similar products leads us to believe that Botopical might have been developed with an eye toward marketing rather than toward skin care. This is not necessarily a bad thing for consumers - perhaps one of the three Botopical delivery systems will work best for you.
How does Botopical compare?
Botopical is a product produced by Botopical Beauty Care, LLC.
All information is accurate to the best of our knowledge at the time of publication.
© 2023 WrinkleReview.Com

Sponsored Ads