Hydroderm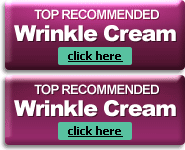 .
Rated:
2

out of

5


by

WrinkleReview.com
Hydroderm is one of the most well-known names in the list of wrinkle creams. Hydroderm's wrinkle remover is a spray-delivered serum that has been available since 2003.
According to the manufacturers of Hydroderm, their wrinkle remover smoothes skin in two ways: first, by delivering a full and complete collagen molecule directly to the cells of the skin. Second, Hydroderm contains a formula called VyoSerum which functions to tighten the skin and deliver moisture to the skin, thus reducing the appearance of wrinkles.
Hydroderm is packaged in a 1 oz. bottle that retails for $79.95.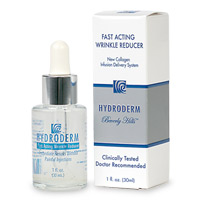 Hydroderm ingredients
Hydroderm's two active ingredients are collagen (derived from marine sources) and VyoSerum. The VyoSerum contains such vegan-unfriendly ingredients as amniotic fluid, placental protein and calfskin extract.
It is also worth noting that Hydroderm does not contain any antioxidants, vitamins or botanical compounds.
The manufacturers of Hydroderm claim that their product will:
reduce wrinkles by 63.5%
firm and tighten the skin's surface
stimulate new growth in existing skin cells
The main principle behind Hydroderm is that the delivery of a whole collagen molecule into the cells of the skin is somehow therapeutic. Whole collagen molecules have long been regarded to be too large to be delivered transdermally.
The Hydroderm website favorably compares their product to collagen injections. This is not a valid comparison. Collagen injections are used to build bulk, which can have the effect of smoothing skin. But the amounts of collagen delivered in an injection are far above those that could be delivered through the skin.
How to use Hydroderm
Begin with clean, dry skin
Release several drops of Hydroderm onto the palms of the hands or the fingertips
Apply Hydroderm generously over your face and neck, making sure to avoid the eyelids
Hydroderm is recommended to be used twice per day
Hydroderm: Our Evaluation
Hydroderm does not contain vitamins, minerals or antioxidants to protect and nourish the skin. Nor does Hydroderm contain any of the peptide molecules, which seem to be the most effective compounds being used in skin care today.
Instead, Hydroderm focuses on the delivery of an intact collagen molecule (which may not even be possible) from a non-human source into the skin, where it may or may not have a positive effect.
How does Hydroderm compare?
All information is accurate to the best of our knowledge at the time of publication.
© 2023 WrinkleReview.Com

Sponsored Ads