AlphaDerma CE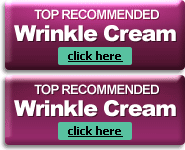 .
Rated:
3

out of

5


by

WrinkleReview.com
AlphaDerma CE is an anti wrinkle skin care product that makes some use of the powerful peptide Argireline as well as a mixed cocktail of antioxidants. Freeze-dried elastin fibers and fragments of collagen molecules are also included in the formula.
AlphaDerma CE comes in a four-ounce pump bottle that retails for $129.95.
AlphaDerma CE ingredients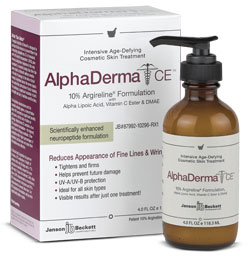 AlphaDerma CE contains one of the powerful peptide molecules, in this case a 10% concentration of Argireline (or Acetyl Hexapeptide-3). This peptide is thought to work by inhibiting the processes that cause facial muscles to contract, causing certain kinds of wrinkling. Theoretically, products containing Argireline should work similarly to BOTOX® injections.
In addition, AlphaDerma CE contains the antioxidants ALA and Vitamin C. Freeze-dried elastin fibers and fragments of collagen molecule are incorporated into the AlphaDerma formula as well, though there is not currently any evidence that either of these ingredients has any effect whatsoever on wrinkles. Likely the body metabolizes the elastin and collagen as amino acids, the same way the body breaks down any type of protein.
How to use AlphaDerma CE
Cleanse and dry the desired area of treatment. Dispense two full pumps into the hand and massage AlphaDerma CE liberally onto the areas where wrinkles are present. (The formula is not so concentrated as other products we review - hence the 4-oz. bottle.) For optimum results, repeat twice daily.
AlphaDerma CE can be used anywhere on the body.
AlphaDerma CE : our evaluation
Acetyl Hexapeptide-3, a proven skin care ingredient, is the cornerstone of the AlphaDerma CE formula. But the addition of elastin and collagen ingredients concerns us, as they have not yet been proven to have any utility when applied externally. Also, AlphaDerma CE instructions specify state that two full pumps are used on the face (compared to a pea-sized drop of concentrated Complexion MD or Avotone formulas) which may indicate a less powerful, less concentrated formula.
How does AlphaDerma CE compare?
Alpha Derma CE is a trademark of Janson Beckett Cosmeceuticals.
BOTOX® is a registered trademark of Allergan, Inc.
All information is accurate to the best of our knowledge at the time of publication.
© 2023 WrinkleReview.Com

Sponsored Ads