Our Hydroderm Triple Effects Eye Serum Review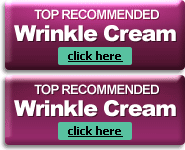 .
Hydroderm is a fairly well-established company in the cosmetics industry today. They offer several different beauty creams, all of which promise to enhance the look and feel of your skin. One specific product, the Hydroderm Triple Effects Eye Serum, is specially formulated to target the three main problems most women face: dark circles, under-eye puffiness, and fine lines. But will the Triple Effects Eye Serum finally be the product that rejuvenates your eyes? Or will it be another in a long line of disappointments? Keep reading to find out below!
What are the Active Ingredients in Hydroderm Triple Effects Eye Serum?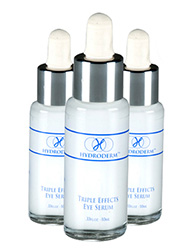 There are many powerful peptides out there which companies rely on to deliver on their anti-wrinkle promises. One of those is Acetyl Hexapeptide 3, and it is listed as one of the effective ingredients in the Hydroderm Triple Effects Eye Serum formula. Also listed is Hyaluronic Acid, which has a number of different skin benefits. Under the right circumstances, Hyaluronic acid is exceptionally good at transporting moisture over the skin barrier so that it can be more easily absorbed. And if it is delivered with collagen peptides, those peptides will bond to your collagen matrix, thus reinforcing the skin and smoothing away wrinkles. Another nice addition to the Triple Effects Eye Serum is extract of Chamomile. Many people use Chamomile to soothe the swelling and puffiness under the eyes.
How to Use Hydroderm Triple Effects Eye Serum
Using the Hydroderm Triple Effects Eye Serum is fairly simple, and the process is also very similar to most other eye serums. For starters, you should make sure that the skin under your eyes is freshly cleansed. Next, you should use your ring finger (to best avoid wiping away any product by accident) and dab the serum below and around your eyes. Make sure you don't rub, because rubbing can stretch the delicate skin around your eyes and worsen any wrinkles or bags you may have.
The Final Word on Hydroderm Triple Effects Eye Serum
On the plus side, it is promising that the serum contains ingredients such as chamomile, hyaluronic acid, and next-generation peptides. It also has many positive reviews on the popular shopping website Amazon, although there are some reviews where customers were dissatisfied with the price, the performance of the serum, or both.
One of the largest complaints, though, has to do with how Hydroderm sells its products when customers want to purchase straight from the manufacturer (and not through third parties, like Amazon). For starters, they don't advertise the full retail price, even in the fine print of their Terms and Conditions. They start by offering a "free trial" which soon automatically turns into an auto-shipping program for customers who are happy with the serum. For customers who are not, however, the cancellation process is notoriously difficult.
How Does Hydroderm Triple Effects Eye Serum Compare?
All information is accurate to the best of our knowledge at the time of publication.
© 2023 WrinkleReview.Com

Sponsored Ads