Freeze 24/7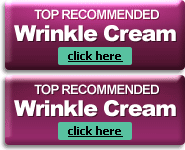 .
Rated:
2.5

out of

5


by

WrinkleReview.com
Freeze 24/7 is a high-end wrinkle cream that claims to be a miracle in a jar, which "delivers a powerful punch against wrinkles. Watch them melt away within minutes." Freeze 24/7 wrinkle cream does not instantly melt away wrinkles, nor does any other anti wrinkle cream currently manufactured.
A single 1 ounce jar of Freeze 24/7 wrinkle cream, approximately one month's supply, costs $115.00.
Freeze 24/7 ingredients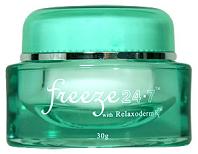 The Freeze 24/7 formula is surprisingly different from other wrinkle creams. Considering the claims made by its manufacturer and its premium price point, one would expect it to contain widely-respected and trusted active ingredients. Unfortunately this is not the case. The main active ingredient in Freeze 24/7 is GABA (gamma amino-butyric acid). However, GABA has not to our knowledge been proven to relax muscles nor to reduce the appearance of wrinkles or lines when applied topically. Nor can GABA penetrate the skin on its own.
According to the New York Times article "Cosmetics Break the Skin Barrier" (Jan. 8, 2005), the manufacturers of Freeze 24/7 added the compound gynostemma, a botanical, to their formula. The intention is to help GABA penetrate the skin, or that the gynostemma will help relax the muscles the same way that GABA should.
The other main ingredient in Freeze 24/7 is sesame seed oil - a good moisturizer.
Freeze 24/7 contains neither peptides nor antioxidants for added effectiveness. Additionally, Freeze 24/7 is one of the few anti wrinkle creams we have reviewed that is meant to be applied up the three times consecutively. Most wrinkle creams contain ingredients potent enough to cause irritation if applied three times in a row. Apparently, Freeze 24/7 does not.
How to use Freeze 24/7
Clean and dry the face. Apply a pea-sized amount of Freeze 24/ 7 on the target area (before applying moisturizers or other products). Pat and smooth Freeze 24/7 into the line or wrinkle. Wait at least two minutes until the cream is absorbed into the skin. Repeat the process for a second or third time and then proceed with your normal skin care routine.
Freeze 24/7 : Our Evaluation
Freeze 24/7 is not only more expensive by far than competing products, the cornerstone of its formula is an unproven compound. Freeze 24 7 does not contain Argireline, Matrixyl, hyaluronic acid or the other ingredients most often found in today's leading skin care products.
How does Freeze 24/7 compare?
Freeze 24/7™ and the phrase "Nature. Not needles."™ are trademarks of Freeze 24/7 International LLC.
All information is accurate to the best of our knowledge at the time of publication.
© 2023 WrinkleReview.Com

Sponsored Ads