Rejuvinol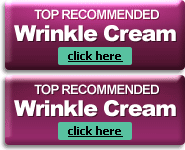 .
Rated:
4

out of

5


by

WrinkleReview.com
Rejuvinol is a nutrient-rich moisturizer that nourishes the skin and fights wrinkles. Rejuvinol is interesting among the other products we reviewed because the complete system consists of a product to be used in the morning, and a second wrinkle cream known as Rejuvox intended for evening use.
A Rejuvinol kit, containing one 1.7 oz jar each of Rejuvinol AM and Rejuvox PM formulas, costs $97.85.
Rejuvinol ingredients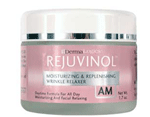 Rejuvinol contains a host of active ingredients of proven efficacy. Rejuvinol PM contains acetyl hexapeptide-3, one of the powerful peptides frequently found in wrinkle creams. In addition, the Rejuvinol PM formula contains: retinyl palmitate (Vitamin A), calcium ascorbate (Vitamin C) and willowbark extract. The AM formula contains a variety of active ingredients including hyaluronic acid, an incredible moisturizer, and green tea extract.
Rejuvinol is one of the few wrinkle creams we reviewed that provides a balanced mix of vitamins, peptides, antioxidants and botanicals.
How to use Rejuvinol
Clean and dry the face. Apply a small amount of Rejuvinol to the fingertips. Rejuvinol AM should probably be used over the entire face. Because of its moisturizing properties, an additional moisturizer isn't necessary after application.
Rejuvinol PM should be applied to those areas where wrinkle removal is desired. Rejuvinol PM works overnight, nourishing the skin and working to smooth away wrinkles. The combination of ingredients soothes inflammation and stimulates skin cells.
Rejuvinol: Our Evaluation
Rejuvinol is a great product. It deserves a place high on the list of products we reviewed. Adding additional peptides and soothing botanicals (like the top-rated product) would be among the only changes we would suggest to its manufacturers.
We wonder, what is the advantage of an AM and a PM formulation? If one of the Rejuvinol formulas is superior to the other, we would expect that one only to be sold. As neither formula contains stimulants or soothing botanicals, we speculate that the Rejuvinol package, consisting of two separate products, was designed by a marketer rather than a dermatologist.
How does Rejuvinol compare?
Rejuvinol™ is a trademark of DermaLogics™.
All information is accurate to the best of our knowledge at the time of publication.
© 2023 WrinkleReview.Com

Sponsored Ads