Nuglow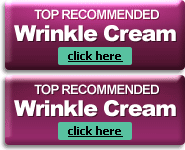 .
Rated:
3

out of

5


by

WrinkleReview.com
Nuglow is a formula based on copper peptides, molecules long known to aid in wound healing. Though the Nuglow website offers an array of products, we will concern ourselves only with the Nuglow anti wrinkle product.
A 1-ounce jar of Nuglow Copper Peptide Serum costs about $85.00.
Nuglow ingredients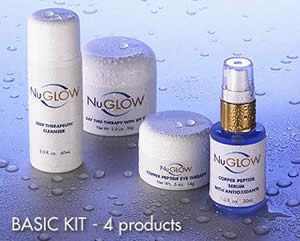 Nuglow contains copper peptides. The earliest form of the peptide molecules used in skin care products, copper peptides are one of the most well-researched ingredients found in wrinkle creams. Copper peptides are known to speed the healing process in humans and can even help reduce the amount of scar tissue formed over a wounded area. The peptides in Nuglow certainly have an effect on the human skin.
Nuglow also contains antioxidants to help counteract free radicals on the surface of the skin.
How to use Nuglow
Clean and dry the face. Apply a small amount of Nuglow to the fingertips and massage into the areas that need wrinkle removal. Nuglow moisturizer is recommended as a follow-up. Nuglow can be used both morning and night.
The entire product line contains 5 different products: a cleanser, a copper peptide serum with antioxidants (reviewed), an eye cream, a moisturizer with SPF 9 and a copper peptide nighttime wrinkle cream. The nighttime cream, serum and eye cream all contain basically the same active ingredients.
Nuglow Review
Nuglow is a good product. Copper peptides, while effective, have been surpassed in the latest products by acetyl hexapeptide-3, palmitoyl pentapeptide-3 and palmitoyl oligopeptide (which we collectively refer to as "the peptides"). We are not certain why Nuglow's system contains three products with fundamentally similar formulas.
How does Nuglow Compare?
Nuglow is a product produced by the Nuglow company, of 35 Wisconsin Ave. Oshkosh, WI 54901
All information is accurate to the best of our knowledge at the time of publication.
© 2023 WrinkleReview.Com

Sponsored Ads