SkinCeuticals A.G.E. Interrupter

Overview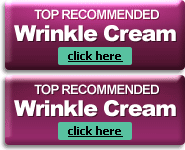 .
Rated:
5

out of

5


by

WrinkleReview.com
SkinCeuticals, the maker of the A.G.E. Interrupter, claims that this high-end, highly concentrated form of anti-wrinkle cream was formulated to make incredible improvements with regard to the visible signs of aging caused by Advanced Glycation End-products, or A.G.E.
The company, SkinCeuticals is a cosmetics manufacturer founded on the premise that proper science can lead to the enhancement of natural skincare far above even the very best organic alternatives, and deeply researches each product they make.
A Close Review Of SkinCeuticals A.G.E. Interrupter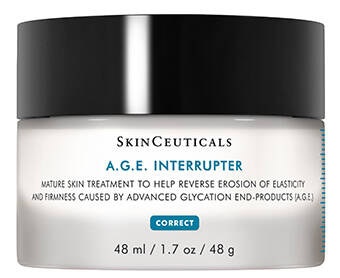 For the rather high price of over $160 for only two ounces, we would expect close to perfection in any product. Still, A.G.E. Interrupter is definitely one of the better anti-aging cosmetics we have looked at, but the high cost alone makes it a rather tough sell for us. The majority of consumers just can't afford to pay that much for that little amount of any product. That said, we do wish that this was our only objection, but parabens have somehow found their way into this ostensibly high-quality skin cream, which is another definite mark in the negative column as far as we are concerned.
Still, the majority of customer reviews have expressed a high degree of satisfaction, with most feeling that they have received mostly desired results quite quickly. In fact, in a twelve week study performed by the company, study participants said that they saw "significant" improvement in fine lines, deep wrinkles, firmness, and skin texture. But, with any internal study, the potential for bias is always a possibility. For that reason alone we would like to see some unbiased studies performed before we would accept those conclusions.
Positives
Utilizes blueberry extract and other anti-agers
Claims to have a luxurious smell and feel
May help with fine lines and wrinkles
Negatives
Made with potentially carcinogenic parabens
May be irritating to sensitive skin
High Expensive
Lists environmental contagions as ingredients
SkinCeuticals A.G.E. Interrupter Key Ingredients
With skin care products in this price range we would expect a certain high standard. SkinCeuticals claims that it can deliver on its promises, but their new A.G.E. Interrupter appears to fall short on that promise in a significant way. With the use of synthetics, preservatives, and parabens on top of that it has an ingredient list we would not immediately associate with a product in this price range. For example, we have noted some of the same kinds of inexpensive fillers along with an eye-brow raising number of preservatives and ingredients with questionable history of efficacy when put together.
Propylene Glycol
In most cases, the "delivery agent" Propylene Glycol is included because it works to keep most products from melting in the high heat or freezing at low temperatures which it is most assuredly will face during transportation. As a matter of fact, it is often used in commercial grade anti-freeze, as well as in the skin cream that you would put on your face. Still, there appears to be no real reason for concern as toxicologists tell us that they have deemed this ingredient to be safe and relatively harmless when used topically in small concentrations. Propylene Glycol is also said to help active ingredients penetrate deeper into the skin, which some would consider to be a positive or negative, based entirely on the other ingredients it may be combined with.
Dimethicone
For those who deal with dry skin or eczema, it would be wise to look for products with Dimethicone in the label. This well-established silicone oil creates a barrier that repels skin irritants and protects the dermis from significant harm. It also works to prevent water loss, keeps skin's natural moistness and locks in the moisture provided by other ingredients such as Glycerin. Furthermore, it is claimed to provide a smooth, creamy feeling when gliding across the surface of the skin. There are certain claims which state that it can improve irritation brought on by dermatitis and it has been approved by the FDA. Still, being that it is silicone, it cannot be readily absorbed into the skin but will, instead, stay on top of the skin much like a blanket, trapping everything under it. This means that it is always best to cleanse thoroughly before use. Also, being that it is not biodegradable, there are some considerable, if yet, unproven environmental costs that haven't been identified yet.
Methylparaben
Some people are turned off by the fact that this chemical is actually an insect pheromone. But, when used as a cosmetic ingredient, it acts as a well-regarded fungicide. According to published reports, in tests performed on mice, it has been proven that larger doses of Methylparaben actually mimic the activity of estrogen. Still, even though the USFDA still recognizes parabens such as Methylparaben as safe for use in smaller doses, there has been a bit of a controversy over the last several years. In fact, a significant number of studies have been conducted to show its lack of toxicity, and yet there are other studies which indicate that it could react quite poorly with UVB and become the cause of premature skin aging. Clearly the paraben battle continues and while both sides may have some cogent arguments as to whether or not this element should be considered dangerous, there's no shortage of it on store shelves.
Disodium EDTA
Even though Disodium EDTA is generally included as a preservative or stabilizer in a multitude of skin care products, it also tends to function well as a penetration enhancer. This makes it helpful in the fact that it allows the additional ingredients in the product to reach deeper into the skin. And, it also allows anything else that might come in contact with to sink in past the normal barriers of the dermis, as well. This has been found to be especially troubling when put together with certain chemicals which one would probably not want diving too deep into your skin and beyond.
Coumarin
This completely all-natural chemical compound will remain solid while at room temperature and is known to have a sweet, vanilla-like aroma but is actually bitter or acrid to the taste. In the plants that it comes from it acts as an inhibitor and a defense against would-be predators. However, in cosmetics, it is most often used as a scent masker, covering up or masking chemical or artificial smells that many might find unpleasant, to say the least. It is also known to be an allergen, and is subject to certain limitations or restrictions in accordance with the rules of the International Fragrance Association Codes & Standards.
Full List of SkinCeuticals A.G.E. Interrupter Ingredients
aqua / water / eau, propylene glycol, dimethicone, hydroxypropyl tetrahydropyrantriol, cyclohexasiloxane, isohexadecane, aluminum starch octenylsuccinate, ci 77163 / bismuth oxychloride, phenoxyethanol, magnesium sulfate, ethylhexyl hydroxystearate, salicyloyl phytosphingosine, acrylates copolymer, methylparaben, ethylparaben, glycerin, synthetic wax, dimethicone/peg-10/15 crosspolymer, disodium EDTA, vaccinium myrtillus extract / vaccinium myrtillus fruit extract, parfum / fragrance, butylphenyl methylpropional, coumarin
How to Use SkinCeuticals A.G.E. Interrupter
SkinCeuticals recommends that consumers use this cream as part of a full regimen of cosmetic products for best results. To start with, users should wash and cleanse their skin with a mild soap or cleanser. Next, they should gently apply A.G.E. Interrupter across the skin of the face, neck, and decolletage as needed. Finally, they should continue with the rest of your skincare routine as usual, with or without makeup. It can be used at night as well for improved results.
The Last Word on SkinCeuticals A.G.E. Interrupter
Given the rather high price tag for this product for even the smallest amount offered, even trying A.G.E. Interrupter by SkinCeuticals is a major commitment, and one we can't say should be taken lightly. For those who are interested in all-natural and completely safe products with no parabens or synthetics this product is not likely the one for you. In fact, there's really nothing that could be said that would prove it to be any better than its some of the much less expensive competitors in the skin care aisle or at the local big box store.
If you are seeking a better skin cream, click here for our top recommendations.
How does SkinCeuticals A.G.E. Interrupter compare?
All information is accurate to the best of our knowledge at the time of publication.
© 2023 WrinkleReview.Com

Sponsored Ads