Rejuvox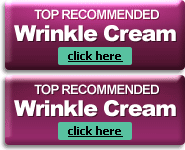 .
Rated:
4

out of

5


by

WrinkleReview.com
Rejuvox is the second component in the Rejuvinol system. Rejuvox is a nutrient-rich moisturizer that nourishes the skin. It is intended for use overnight.
Though Rejuvox comes packaged differently from its AM partner, Rejuvinol, the two formulations are nearly identical. Trace amounts of three ingredients are the sole difference between the two creams. We are left to speculate why there are two jars with two slightly different creams -- does one work better than the other? If so, why not just use the one cream? If not, why should a customer purchase both?
A Rejuvinol kit, containing one 1.7 oz jar each of Rejuvinol AM and Rejuvox PM formulas, costs $97.00.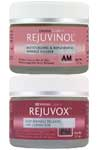 Rejuvox ingredients
Rejuvox contains a host of active ingredients of proven efficacy, and is one of the few products, other than Complexion MD, that provides a balanced blend of peptides, antioxidants and botanicals.
The Rejuvox formula contains acetyl hexapeptide-3, retinyl palmitate (a retinol) and hyaluronic acid. Rejuvox contains botanicals to help soothe the skin, including chamomile and willow bark extract.
How to use Rejuvox
Clean and dry the face. Apply a small amount of Rejuvox to the fingertips and apply it gently over the face in an upward, outward motion. Focus on areas that have lines or wrinkles. Rejuvox should be used before bedtime so it can work overnight.
Rejuvox: Our Evaluation
The Rejuvox / Rejuvinol combination is a great product. Despite the somewhat questionable marketing tactic of offering two nearly identical formulas, it deserves a place high on the list of products we reviewed. Adding additional peptides such as palmitoyl oligopeptide and palmitoyl pentapeptide-3 would be among the only changes we would suggest to its manufacturers.
How does Rejuvox compare?
Rejuvox™ is a trademark of DermaLogics™.
All information is accurate to the best of our knowledge at the time of publication.
© 2023 WrinkleReview.Com

Sponsored Ads