Lancome Genifique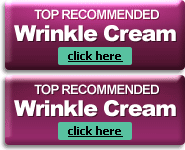 .
Rated:
2

out of

5


by

WrinkleReview.com
Lancome Genifique has now been on the market long enough to have a few reliable and comprehensive customer reviews under its belt. While the product looked promising, especially due to how convenient it is to obtain, initial reports on the effectiveness of Lancome Genifique have not been as impressive as one would hope. Check out some possible reasons why Lancome Genifique reviews have been less than glowing.
Lancome Genifique is a skin care product referred to by the manufacturers as a "Youth Activating Concentrate." That is, it is a serum intended to slow down or reverse the signs of aging on the skin, most especially fine lines and wrinkles.
Genifique is available at department store make up counters and over the Internet, at $78 per ounce for the main product and $59 per half ounce for the eye specific product. Lancome Genifique is purported to "boost gene activity" and activate "youth proteins." This vague terminology and these unclear promises serve in place of a list of ingredients on the Lancome Genifique website for good reason - they sound much more impressive than the actual ingredients.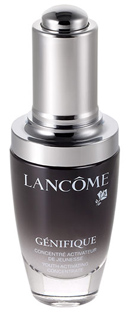 Lancome Genifique Ingredients
Once you do manage to locate an ingredient list, the reason that Lancome Genifique reviews are so universally underwhelming becomes clear. The writers of these Lancome Genifique reviews continually focus on this ingredient list, or, more appropriately, what is missing from the ingredient list. Lancome Genifique contains Bio-Lysat, popular in many probiotic products. However, there is no evidence indicating that this ingredient has any effect on the condition of the skin. The Lancome Genifique reviews are quick to mention this, and it is an indicator of the strength of the rest of the ingredients included in Lancome Genifique. Additional ingredients include Hepes, to brighten dark spots and also Phystosphingosine-SLC, to "balance" the skin.

Most agree that when it comes to diminishing fine lines and wrinkles ingredients like Acetyl Hexapeptide-3 (Argireline®), Palmitoyl Oligopeptide, and Retinyl Palmitate work best.
Acetyl Hexapeptide-3 works on a molecular level to help relax the muscles in the face, hence reducing wrinkles in the skin.
Palmitoyl Oligopeptide actually has been shown to increase collagen production in the skin, while also stimulating the growth deep facial tissues. More collagen means more youthful skin.
Finally, a well-known and effective wrinkle-fighting ingredient you should look for is Retinyl Palmitate. Retinyl Palmitate is similar to Tretinoin, a vitamin-A compound, and helps to boost your skin's metabolism by aiding in the shedding of old skin cells which in turn leaves you with healthier, younger skin.
No wonder Lancome Genifique reviews are almost universally disappointing - there are several glaring omissions from the ingredient list, namely such well-known and effective ingredients like Acetyl Hexapeptide-3, Palmitoyl Oligopeptide, and Retinyl Palmitate.
Lancome Genifique Initial Reviews
Lancome is a well known and respected name in makeup and skin care products, so it is understandable that many were hoping to be equally impressed with this new product. However, the first Lancome Genifique reviews indicate that the product does not fall in line with Lancome 's reputation. Reports of little to no result, high cost and even severe skin dryness have been reported in Lancome Genifique reviews. It is extremely difficult to locate a review that is more than mediocre, let alone positive.
Does Lancome Genifique Work?
One glance at Lancome Genifique reviews should be enough for the average consumer to realize that their money is better spent elsewhere, on a more effective product. For those more comfortable with shopping for skin care products, a quick glance at the list of ingredients (difficult to locate, except in Lancome Genifique reviews) reveals that popular and proven ingredients, like hyaluronic acid, Palmitoyl Oligopeptide and Argireline are completely absent. After checking out the Lancome Genifique reviews and familiarizing yourself with effective ingredients, it is easily clear that Lancome Genifique deserves a pass. See which wrinkle product we found to be the most effective by viewing the product reviews.
© 2023 WrinkleReview.Com

Sponsored Ads