Lancôme Génifique

Overview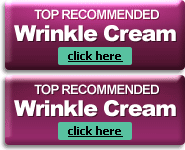 .
Rated:
5

out of

5


by

WrinkleReview.com
The new product Genifique Youth Activating Cream Serum from Lancome is making a lot of claims regarding its ability to bring the youthful look back to the user's skin. The manufacturer claims that laboratory testing shows that the active ingredients increase gene activity and a greater production rate of skin proteins that are normally associated with youthful-looking skin. The producer further claims that Lancome's Genifique Youth Activating Cream Serum can restore the youthfulness of skin and, one could infer, that it will also significantly reduce the appearance of deep wrinkles.
An Examination Of Lancôme Génifique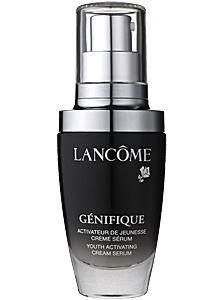 One thing that careful readers might notice is that the reduction of these deep wrinkles is only really implied, as opposed to an exact statement. This can be seen when closely examining the long list of ingredients. Among the standard list of ingredients, which we like to call the usual suspects, these are found in the form of the extensive list of chemical names and various stabilizers. What these careful readers won't find is any element which could be argued to be dedicated wrinkle-fighters in the composition of this product.
What this serum does rely on is its supposed "gene boosting activity" which is claimed to be based on, but not one of the ingredients listed on its label is known to have that particular capacity. What it does have is a central component used in the beauty industry known as a probiotic, which is generally accepted to be good for skin health and is widely heralded for its benefits for skin. The main benefit is that it can help to smooth rough skin and reduce skin sensitivity, both of which are good things. But then there are the questions regarding those deep wrinkles and crow's feet. All of the research associated specifically with this product makes no mention of them that we could find.
Going back to 2009, Lancôme's parent company, L'Oreal, conducted what's called an in-house study looking specifically at this serum's core probiotic. The study, itself, was randomized using a double-blind and was reported to be placebo-controlled so as to eliminate as much bias as possible under the set of criteria. Still, the data that was chosen to be part of the study and what was not included creates a lot of opportunities for bias, as it could never be totally eliminated. In the end, the questionable results of the trial, the study participants demonstrated significant decrease in skin sensitivity and marked reduction in facial skin roughness. However, the lack of any notes related to deep wrinkles cannot be overlooked.
On the other hand, however, Lancôme Génifique does not make the explicit claim that it can reduce deep wrinkles, despite the notable implications to that effect. What it does claim is that it "targets the key signs of youth", and even though those wrinkles are at the heart of the signs of aging, they are not the only problem for skin. Génifique does say it is mainly designed with the goal of improving radiance, tone, elasticity, smoothness, and firmness. Of those issues, firmness is the only one which could imply wrinkle reduction and be so without foundation. That said, the science behind it all does back up the remaining majority of the producer's claims.
Positives
Is said to increase gene activity and bolster the production of youth proteins
Provides extra hydration and softens skin
Acts to smooth and retexture the surface of skin
Enhances skin protection with all-day hydration
Negatives
The only known research were conducted in-house by the producer
Combats some but not all of the signs of aging
Does not contain any strongly recognized wrinkle-reducers
The cost puts it out of reach for many potential users
Does not offer a solid explanation for "gene boosting"
Lancôme Génifique Core Ingredients
Long recognized as a luxury brand, Lancôme is said to value performance over cost in order to deliver top of the line beauty products. It is for this reason that some might expect to find beauty industry leading elements like Retinol and Hyaluronic Acid, or perhaps Arginine, as with most products out there on the market. However, Génifique Youth Activating Cream Serum has chosen to include none of these tried and true ingredients. Instead, it appears to have been made with only a few general skin care staples such as Glycerin, Limonin, and Xanthan Gum, which are not well-regarded wrinkle-fighters, but still work with the skin in various areas. Instead, Génifique's major weapon in the fight against aging comes in the form of what it calls a unique probiotic, which we will explore in greater depth below.
Hydroxyethylpiperazine Ethane Sulfonic Acid (HEPES)
Generally referred to by the acronym HEPES, Hydroxyethylpiperazine Ethane Sulfonic Acid is utilized to produce a neutral pH level in many water-based solutions including this serum. As those familiar with the science with likely know, human skin is just barely acidic, much like the skin of a tomato. Applying neutral pH chemicals and solution on your skin is the best possible scenario for most men and women facing this issue as it works to prevent skin reactions that typically make it vary too far to once side on the pH scale and become too dry or too oily. Add too much acid and skin will become oil central,. Add too much base and it can become dry as a bone, which will only lead to even more wrinkles. In the end, HEPES is most helpful as a way to align skin with the neutral safe zone.
Bifida Ferment Lysate
Given that this complex comes about as the result or the fermentation and bacteria, it is not nearly as disgusting as it may. Bifida is actually a friendly bacteria or a probiotic. As a result of the fermentation process, it ends up producing a highly specific yeast known as Bifida Ferment Lysate. Recognized for its restorative properties, this complex is believed to provide UV protection and help reduce skin oxidation. It also is widely known for its ability to hydrate skin while providing minor soothing effects. Although it is man-made, it comes from a natural process (fermentation), which makes it a natural ingredient. Research found in the Journal of Dermatological Science have demonstrated that Bifida Ferment Lysate has been around going as far back as 2006, and has been determined to be both safe and effective, even though it is not thought of as the fastest acting or most incredibly beneficial product when it comes to repairing deep wrinkles.
Citric Acid
As a part of the core formulation this natural chemical component has a variety of uses in and on the human body. It is scientifically classified as an alpha hydroxy acid, or more commonly referred to as an AHA. When one breaks it all down these AHAs are exfoliants, which are utilized to remove dead skin cells and leave behind a fresh palate for new, regenerated skin to grow freely. It's also known as a natural form of Vitamin C that can work to protect skin cells from free radicals in the body. Still, one should take care when using these elements as AHAs can become too intense to use for some, particularly anyone with consistently dry or irritated skin. AHAs are also known to promote flaking of dead skin, which can sometimes leave behind a small amount of redness as they start to work. This can irritate any sensitive skin which can result in an even worse condition.
Glycerin
Even though it can be derived from plant oils or synthetically manufactured, Glycerin has turned out to be a popular beauty cream ingredient that balances the natural moisture levels within the different layers of your skin. It does this because of the fact that it is a humectant, which is known for its ability to draw water from the air and absorb it into the skin's outer layer. From that point it begins to form a barrier over the skin, which prevents needed elements from escaping or unwanted elements from entering. This effect may be a welcome feature with regard to protection, but it's also a potential danger if other chemicals attach themselves to it, and then become trapped under a glycerin blanket directly on the skin. Whenever a product of this nature is found to have Glycerin on the ingredients list, one should always be sure to cleanse your skin thoroughly before starting use.
Full List of Ingredients
Water, Bifida Ferment Lysate, Glycerin, Alcohol Denat., Dimethicone, Hydroxyethylpiperazine Ethane Sulfonic Acid, Ascorbyl Glucoside, Caprylyl Glycol, Disodium Edta, Sodium Hyaluronate, Sodium Hydroxide, Sodium Benzoate, Phenoxyethanol, Ammonium Polyacryldimethyltauramide/Ammonium Polyacryloyldimethyl Taurate, Adenosine, Faex Extract/Yeast Extract/Extrait De Levure, Peg-20 Methyl Glucose Sesquistearate, Peg-60 Hydrogenated Castor Oil, Salicyloyl Phytosphingosine, Limonene, Xanthan Gum, Octyldodecanol, Citronellol, Fragrance.
How to Use Lancôme Génifique
The makers of Lancôme products recommend using this serum as the second part in a muti-part daily skin care regimen. To start with, the user should cleanse their face thoroughly with the use of warm water and a mild soap. They should then allow their skin to air dry. Utilizing the exclusive self-loading dropper, the user should apply the recommended amount of serum across the facial skin and gently massage it in until it is fully absorbed. Lancôme further suggests that one follow up with an eye cream and facial moisturizer as well. As one would suspect, these products are made by the company, as well. This serum can be used in both morning and nightly skin routines.
The Last Word on Lancôme Génifique
The makers of Lancôme Génifique claim this product will enhance the appearance of youth, and it does to some degree. Even though wrinkle-fighting clearly is not among the top priority based on the ingredients contained within this serum, it does have some good benefits that should not be ignored. All of the available research and studies as well as customer reviews come together to agree that it does soften skin while visibly improving radiance and tone, giving users a "glow" that can be quite pleasing. However, it is always advisable to note that studies do have a serious bias and numerous customer reviews included the notation that there was an incentive provided for the favorable opinion. In general, Génifique does moisturize rather well, and has some notable sensitivity risks, but is entirely lacking when it comes to the reduction of wrinkles.
To learn more about anti-aging products, including ones which are made to combat the worst wrinkles, check out our other reviews!
How does Aquallure compare?
All information is accurate to the best of our knowledge at the time of publication.
© 2023 WrinkleReview.Com

Sponsored Ads