OHT Peptide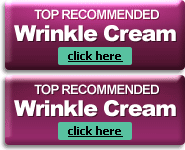 .
Rated:
4

out of

5


by

WrinkleReview.com
OHT Peptide is a complex formulation that contains no less than three powerful peptide ingredients along with several anti inflammatory compounds. The formula contains a wide variety of anti aging and anti wrinkle ingredients.
OHT Peptide comes in a one-ounce tube which retails for approximately $45.95.
OHT Peptide ingredients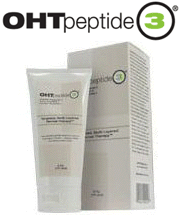 OHT Peptide contains three peptides: palmitoyl pentapeptide-3, palmitoyl tetrapeptide-3 and acetyl hexapeptide-3. The first and last of these peptides are proven anti wrinkle ingredients found in the top anti aging skin care products.
OHT Peptide also contains ingredients to soothe inflammation and botanicals that have been reported to stimulate collagen and elastin renewal. Many products claim the ability to stimulate collagen and elastin renewal, but very few products seem to be able to actually do so. In any event, the benefits are extremely subjective. When one's skin looks better, one doesn't generally know whether the improvement is due to collagen stimulation or some other factor.
How to use OHT Peptide
Begin with clean, dry skin. Apply sparingly and gently massage the OHT Peptide cream into the skin of the face. Repeat up to twice daily. As the cream begins to work, you may feel a warm tingling sensation. This is normal.
OHT Peptide 3 should never be used more than three times in a 24-hour period, and is not for use by pregnant or nursing women.
OHT Peptide: our evaluation
OHT Peptide is an interesting formula with powerful ingredients that have a lot of promise and a great deal of potential. Overall, we think that OHT Peptide has one of the top ingredient lists of all the anti wrinkle cream products we reviewed. The OHT Peptide formula seems to be well thought-out and well-researched and is almost as good as the top-rated product.
How does OHT Peptide compare?
All information is accurate to the best of our knowledge at the time of publication.
© 2023 WrinkleReview.Com

Sponsored Ads