Chanel Precision Anti Wrinkle Eye Cream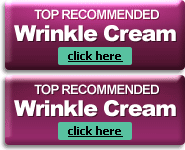 .
Rated:
2.5

out of

5


by

WrinkleReview.com
Chanel Precision Anti Wrinkle Eye cream is among a complete line of skin care products targeted to combat the signs of aging. However, the ingredients in their line do not address lost collagen--the very thing that causes wrinkles .Unlike their line in fashion, this skin care line does not par up against other anti wrinkle products in the market today.
A .5oz jar of Chanel Precision costs about $70.00.
Chanel Precision ingredients
Chanel Precision Eye Cream works to firm skin, lighten dark spots, and reduce the appearance of wrinkles.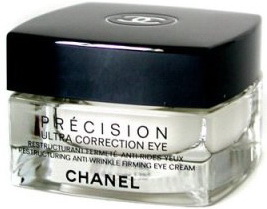 The active ingredient Adhesioderm firms skin by connecting the epidermis and dermis layer of skin---these layers determine the firmness of your face.
The "Life Cycle Regenerator" works against wrinkles by stimulating cell respiration and detoxifies skin cells.
The licorice root further combats dark spots by regulating the amount of melanin produced in skin.
Melanin is responsible for dark pigmentation in skin. Ingredients such as Kombucha extract and elastin boosts collagen and elasticity in skin.
Although the claims in the eye cream sound amazing, do they actually work?
Little is known as to the actual ingredients in the formula. The "Adhesioderm" and "Life Cycle Regenerator" do not tell us what active ingredients are working to deliver results. The Kombucha claims to boost collagen but it has not been used in leading anti- aging products. There is little evidence that it works to reduce wrinkles.The website does not provide much information either.
How to use Chanel Anti Wrinkle Eye Cream
Clean and dry the face. Apply a moderate amount to face and neck. Chanel Precision Anti Wrinkle Eye Cream is light weight and can be used under makeup.
Chanel Precision Anti Wrinkle Eye Cream: our evaluation
Since little is known about the active ingredients in Chanel Precision Anti Wrinkle Eye Cream, there is insufficient proof as to the effectiveness in the formula. Further, the ingredients that are mentioned such as Kombucha extract have not been proven to reduce wrinkles. This anti wrinkle eye cream proves to be an ineffective solution to reducing wrinkles.
Consumers looking for an effective anti wrinkle eye cream should look for products containing ingredients such as palmitoyl pentapeptide-3 and acetyl hexapeptide-3. These have been clinically tested as anti-aging ingredients.
How does Chanel Precision Anti Wrinkle Eye Cream compare?
Chanel™ is a trademark of Chanel Worldwide.
All information is accurate to the best of our knowledge at the time of publication.
© 2023 WrinkleReview.Com

Sponsored Ads