Bare Escentuals: MD Formulations Anti Aging Kit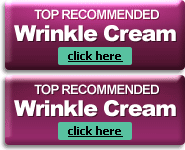 .
Rated:
1.5

out of

5


by

WrinkleReview.com
Bare Escentuals is well known for its line of mineral makeup, "Bare Minerals." It's huge success on QVC, prompted the creator, Leslie Blodget, to expand the brand and include a complete skin care line: MD Formulations. MD Formulations anti-aging skin care kit works to enhance and revitalize the condition of your skin.
MD Formulations complete anti-aging kit costs about $52.00. This isn't a lot to pay for a package that includes seven products. Unfortunately, the MD Formulations product line does not seem to reduce wrinkles directly.
MD Formulations Anti Aging Kit ingredients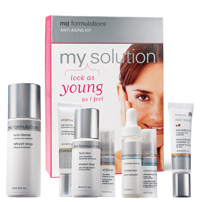 The MD Formulations anti-aging skin care kit contains no less than 7 individual products which cleanse skin, restore hydration, and prevent wrinkles. You will not get dramatic results in wrinkle reduction. The MD Formulations kit is much more appropriate for younger people who do not yet have wrinkles.
The seven products are:
Facial Cleanser
Moisture Defense Anti-Oxidant Lotion
Moisture Defense Anti-Oxidant Eye Cream
Vit-A-Plus Night Recovery cream
Vit-A-Plus Eye Cream
Total Protector SPF 30
Continuous Renewal Serum
The Facial Cleanser reveals younger skin by gently exfoliating old skin cells away. The Moisture Defense Antioxidant Lotion hydrates skin and protects it from damage caused by free radicals. It's eye cream works to reduce dark circles and puffiness. Light deflecting pearls brighten eyes and help reduce the appearance of wrinkles. So far these products do not contain any active ingredient to reduce wrinkles. The pearls merely work to disguise the appearance of wrinkles. The MD Formulations facial cleanser may help to diminish the signs of aging due to exfoliation. However, it won't work any better in reducing wrinkles than a regular face cleanser.
The Vit-A-Plus Night Recovery also claims to reduce the appearance of fine lines and wrinkles. Active ingredients are vitamin A, salicylic acid, and glycolic acid. The most these ingredients do to reduce wrinkles is remove old skin cells. Your face is younger looking and more radiant. However, the appearance of wrinkles will not be greatly reduced. The MD Formulations eye cream contains the same active ingredients. Finally, the Total Protector 30 protects skin from harmful UVA/UVB rays.
Overall, the products in the Bare Escentuals MD Formulations kit do not contain active ingredients which reduce wrinkles.
The only product in the MD Formulations line which contain proven ingredients to reduce wrinkles is the Wrinkle Filler and Deep Crease Relaxer. This product isn't even in the kit! The wrinkle filler and deep crease relaxer contains peptides which are proven to relax wrinkles and visibly decrease their depth and formation.
How To Use MD Formulations Anti Aging Kit
This kit is marketed as a full strength solution against wrinkles. There is an a.m. regimen as well as a p.m. regimen.
The a.m. regimen requires you to apply the Facial Cleanser first, without water. Concentrate on oily areas and massage well into skin. Rinse and pat dry. Next apply a few drops of the Continuous Renewal Serum to face. Be sure to avoid eyes. Let dry. The Moisture Defense Antioxidant Lotion is followed thereafter. A small amount of this moisturizer should be applied to face. For the eye area, use a small amount of the Moisture Defense Antioxidant Eye Creme. Last apply a generous amount of the Total Protector 30 onto face.
The p.m. regimen also starts with the Facial Cleanser. Apply as directed above. The Vit-A-Plus Night Recovery treatment is used next. Apply a small amount onto face. Avoid eye area. The eye area should be treated with the Vita-A-Plus Eye Creme. Work this cream around the outer corner of eyes and under eyes. Avoid eyelids. Finally use the Moisture Defense Antioxidant Lotion mentioned above. The Moisture Defense Antioxidant Eye Creme should be applied last to eye area. Use a small amount and apply all around the eyes.
MD Formulations Anti Aging Kit: our evaluation
Since this Bare Escentuals anti aging kit does not contain any products with active ingredients that target wrinkles, this is not be the best choice for those concerned about wrinkles. The kit will work to enhance the condition of your skin with cleansers and moisturizers. Your skin will look younger do to ingredients which remove old skin cells. However, the complete regimen is quite time consuming.
How does MD Formulations anti aging kit compare?
MD Formulations ™ is a trademark of Bare Escentuals.
All information is accurate to the best of our knowledge at the time of publication.
© 2023 WrinkleReview.Com

Sponsored Ads